I finished two more pages in my nature album.
I took this picture at an outlet mall. The faded background is the original picture with lowered opacity. The smaller one is the same photo but I was playing with Virtual Photographer and really liked how the dreamy effect softened the photo. The elements for this are from
Sultry Summer
by
Julie. It is
.
For this one I used
Canyon
by
Julie. It is
. and a frame from the
Country Roads Freebie
by
SKrapper

Digital
s. I actually took this picture quite by accident. I have been trying (rather unsuccessfully) to get some good mountain range pictures so had my camera out in the car while we were returning from my family reunion in WV. We were sitting in traffic (yes, traffic in WV, what's up with that???), and this is what I saw.
This next one was another one of those layouts I had been trying to get done for a while. It was the next chronological page in
my son's baby book
I needed to scrap. My husband took these photos when we first got our digital camera and was playing with the black and white setting so I had no choice but to have black and white photos. Usually, if I scrap in black and white I have a specific reason for doing so, so I was struggling with finding something that worked with these black and white photos but was still boyish enough for a children's layout. Then
Julie
released her new kit today,
Oh Boy
, and I had this layout done in no time. She's got a freebie mini kit which coordinates with the rest of the full kit on
her blog
tonight so be sure to check that out. It looks like the full kit is on sale right now for $2.00 too.
My Scrap Shop News:
For all those budding designers out there, My Scrap Shop made
an announcement
today you may want to check out.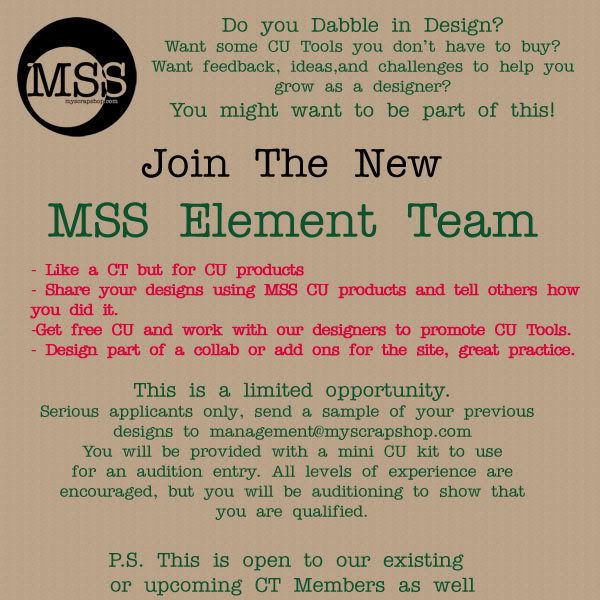 Up for one more layout? I did this one last night. It was for a Template Challenge by Sine at
Scrap Orchard
I heard about it in the away challenges thread over at
Hummie's

World
. I love
mulit
-photo layouts so I thought I would try my hand at this. I had to recreate the template in Memory Mixer because the
psd
files don't work in it. That really wasn't that hard though.
However, I found using a template for the first time to be a challenge actually. I kept thinking "I thought this was supposed to be quicker". I am sure it is for most people - so don't let me discourage you because there are some amazing templates out there. I personally love to admire all of them by
Simply Sarah Designs
and while I haven't used an entire template before this, have been inspired by some of Sarah's amazing photo arrangements and tried my hand at recreating them once or twice in my layouts. I personally found that I felt locked in and a little creatively limited with the use of a template. I kept going from feeling my layout was too plain to being too busy and felt like I spent three times as much time on the layout as I would have.
BUT this was a really great template (and my stressing was, I am sure, really just my quirky need-to-do-my-own-thing personality trait) so I would encourage you to give it a try yourself and see what you can come up.
I used Blossom's Welcome Kit by
Booland

Designs
for this one.
Happy Scrapping.