How will you be celebrating? I had plans away from the house but it looks like they got canceled so I will HAVE to stay home and play on the computer. Poor me. ;)
Here are some things you won't want to miss.
1. Make sure you are following me on
twitter
or
Facebook
since I will be giving away a few $2, $5 and $10 GCs today.
2. Pick up the
iNSD coupon catalog
from DST to find out how to get a free template pack of your choice from my store.
3. Did I mention
my store
is still 50 percent off plus there are lots of other great sales going on at
PDW
today, like
the everything $2 sale
Julie. It is. is having.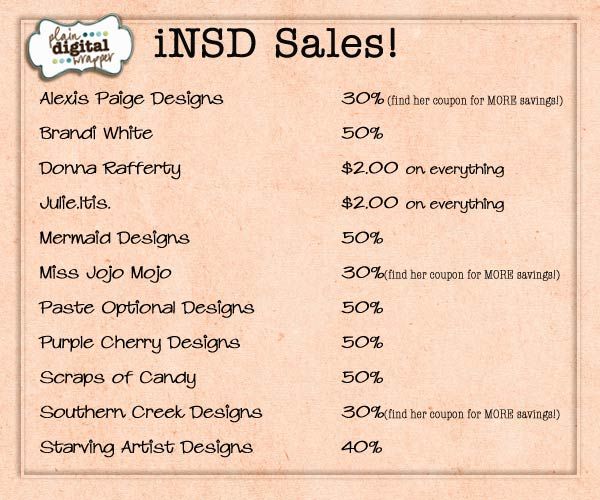 4. Stop by the
chat at PDW
tonight (10 p.m EST) for a chance at lots of great prizes including this template from me.
and this alpha from
Julie. It is
.
I heard some rumors about Gift Certificates at the chat too . . .
6. Speaking of gift certificates,
PDW
is giving away a pack of Gift Certificates for anyone that follows them on Twitter during the month of May. So what are you waiting for, go follow!
7. Finally, for my fellow MemoryMixer fans
LeeLou
has a coupon for 30 percent off on her blog PLUS
The Little Things by MemoryMixer blog
is giving away a free copy of their software and three coupons for their store. Did I mention I get my photobooks printed there and they are fantastic?
OK - now go have some iNSD fun!